Week of September 21 - 25
Norwich Youth Advisory Council's Tunes on the Trail, Sept. 27th, 11am to 2pm.
Walk the trail and enjoy tunes along the way. COVID prevention efforts required and limited participation, first come, first to receive an entry time. Meet at Dresden trail in the back parking lot of King Arthur Bakery.
This is an event created by Youth for Youth and their allies but this is also N inclusive group.
For more information about Norwich Youth Advisory Council email norwichyouthadvisorycouncil@gmail.com
---
The Family Connectivity Project
Keeping families connected during the pandemic...
Since the stay-at-home order took effect in March, the coronavirus crisis has laid bare the fact that for many families, internet access is a necessity, not a luxury. Overnight, a device and an internet connection was needed to access medical care, therapy sessions, early intervention services - or just to maintain contact with family members, beloved care providers, and friends.

Help is available! If your family, or a family you know, is worried about accessing vital services if we experience another shutdown this winter, the Family Connectivity Project wants to hear from you. We may be able to help with phone or internet bill payments, obtaining an internet-enabled device, or options for improving your high speed internet service of cell phone services.
If you know of a family who could benefit from this assistance, please encourage them to fill out this online referral form. A member of the Family Connectivity Project will be in touch to identify the family's needs and next steps.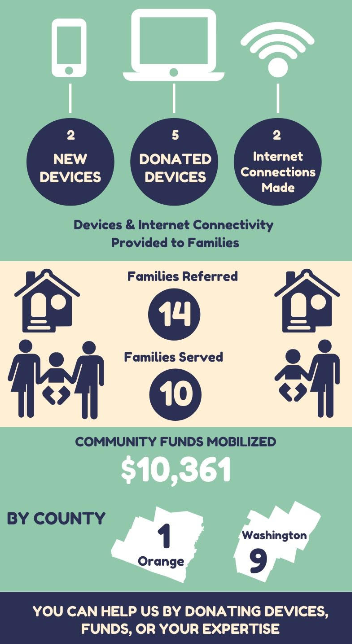 The Family Connectivity Project is a collaboration of Building Bright Futures, the Green Mountain United Way, The Family Center of Washington County, Good Beginnings of Central Vermont, and rbTech. Our goal is to ensure that families with children 0 to 5 can access virtual or phone-in services from community service providers during this COVID-19 pandemic. Specifically, we aim to help families with barriers to access that result from poor internet or cell service or lack of a device or other appropriate technology.

Learn more about volunteering for this project or how you can make a device donation.